Create your own "Fortress of Solitude". If you are looking for a secluded, private place to be, a serene haven, in a tranquil setting, where you can write, read, paint, create anything, even peace, maybe this is the sanctuary you've been seeking. Treat yourself and relax in a luxurious room, furnished with a comfortable, massive, king sized, sleigh bed The Suite has a its own fabulous, spa-like bath, tiled in shimmering blues, with a bidet, a 4×4 tiled shower with a built-in bench and a 150 gallon Japanese Soaking Tub.
Spacious, with a cathedral ceiling, and lined with windows on three sides, nature serves as the Sanctuary's living paintings. If you appreciate the healing, restorative power of Nature, this is the place for you.
Just a few steps across the lawn is a private terrace overlooking the pond, where you can enjoy a cup of tea and a book, or a glass of wine in the evening. You can use the table and chairs for your artwork, journaling, and dining. Or, just sit in the glider, enjoying the beauty and sounds of the land.
The beauty of the Sanctuary is year round, for there is beauty to be found in all seasons of Nature, as well as life. If you choose not to wander about in the chill, lounge inside and enjoy the view from eleven 6′ x 3′ windows.
If you enjoy wildlife, birds, vernal pools, butterflies etc. this is the place to be. Enjoy the songs of birds, insects, frogs and toads. Catch a glimpse of muskrats, minks, wood ducks, birds at the feeder just outside your window. View Monarchs in all their stages, chrysalis, caterpillar, butterfly. See the Retreat drop-down for some wildlife observations.
Other amenities include: Private entryway, Wireless Internet, microwave, mini-refrigerator, breakfast served in your room, morning newspapers, television, large DVD selection, hair dryer, alarm clock, and books on request.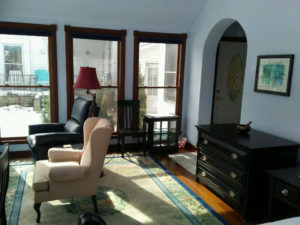 *Rates are $200 per night, Monday through Thursday and $250 per night on weekends.
*For Discounted Multi-night Rates and information on "Policies" and "Deposits and Cancellations" and please check under "General Information", which is accessible by clicking on Accommodations.
*All prices include a bountiful home-cooked Breakfast,
*Rates are for single or double occupancy,
*Add $50 for each additional person in suite
*You may schedule an in-room massage or Reiki and/or CranioSacral Therapy.
The rates for Reiki and CranioSacral Therapies are $60.00 per hour long session
and $35.00 per half hour
Enjoy your morning coffee or evening beverage on the terrace overlooking the pond.
Stroll around the lawns and fields, linger by the brook, under a tree, by the pond.
Lots of light and beauty!